CONFERENCE VENUE/HOTEL AND LOGISTICS
NUICC
南大国际会议中心
Nanjing University International Conference Center (NUICC)
Address:Nanjing University International Conference Center 163 Xianlin Avenue, Nanjing, PRC
Tel: 025-89686666
Post Code: 210046
Location:
The hotel is located in the northeast of the city.
• Distance from the airport ( Km ): 60
• Distance from the South Nanjing railway station ( Km ): 30
• Distance from the Nanjing railway station ( Km ): 20
• Distance to downtown ( Km ): 25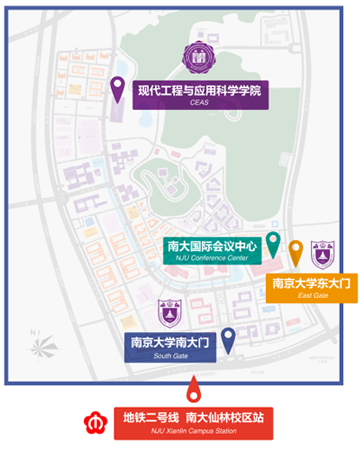 Introduction to NUICC
Built by 4-star-hotel standards, NUICC is an integrated building with a variety of functions. It is located on the beautiful Xianlin international campus of Nanjing University. NUICC has 225 rooms and suites of varied styles. These carefully decorated rooms are equipped with HD TV, quality computer and network interactive function. In these highly equipped landscape rooms, you may feel warm and glance at the beautiful scenery of Nanjing University after tiring work. The housekeeping offers a series of services, such as shoe-polishing, daily necessities lending, agent service, etc. All you have here is comfort and close touch to nature.
Dining Room

Lobby

Meeting Room

Guest Room
Introduction to Nanjing
Nanjing, an ancient capital of China, located in the downstream Yangtze River drainage basin and Yangtze River Delta economic zone, enjoys a worldwide reputation for its history and culture. It has achieved its fame as "an ancient capital of ten dynasties" in the past years. Nanjing has also served as a national hub of education, research, transportation and tourism throughout history, as well as an important commercial center in the East China region.
Nanjing is decorated by the majestic scenery intertwined with many cultural antiquities. To the east is Mt. Zhongshan, also called Zijin (Purple Golden) Shan Scenic Area. To the west of the mountain is the enthralling Mt. Qixia. The great Yangtze River traverses the northern part of the city and the spectacular scenery is best viewed from the railway & highway Bridge. Nanjing is also appealing for the blend of modern and classical offerings. One unique bustling area in Nanjing is Qin Huai River, cultivated some well-known talented and patriotic heroines at the turning point of the former dynasties. The well-trodden Confucius Temple is located beside the river. The most famous handicrafts in Nanjing are Yunjin Brocade and Yuhua Stone.
Introduction to Changshu
Always a good harvest, every year, Lakes and mountains, little bridges over flowing waters, A heavenly perfect combination of waters and mountains, An everlasting promise between the City and its people, This is Changshu.
In this perfect harmony Changshu has already quietly walked through more than 1700 years of its tranquil time. Today, Changshu has built up strong economic foundations, established a rich culture of innovation, accumulated deep cultural heritages, and has abundant natural endowments. As a pilot city for comprehensive reform of the management of science and technology, Changshu has consistently explored new paths based on technological innovations to promote its economic development and growth.
To achieve its next leap in economic growth and science and technology competitiveness, Changshu has, through establishment of Institute for Smart Liquid Crystals, built a notable open platform that will attract innovative talents and resources worldwide, thereby speeding up its pace in building Changshu an exquisite city.
Introduction to Changshu High-tech Zone
Changshu High-tech Zone is the core area of the base for National high tech services industries. It actively undertakes the transfer of advanced and high end commercializable projects, forming a cluster of industries that are primarily in the areas of automobiles and parts, high end equipment manufacturing, high-end electronic information and high-tech services.
Approved by the Ministry of Science and Technology and Ministry of Education and located in the Changshu Hi-Tech Zone, Changshu National University Sci. & Tech. Park is the first national university science and technology park in the county-level cities.
Following the guideline of "platforms to gather talents, projects to attract talents, carriers to cultivate talents, mechanisms to retain talents", Changshu High-tech Zone has been recruiting heavily science and technology talents, strengthening the pool of high-end talents, promoting the attention getting effect of the leading industries, and strengthening the leading role of the talents, to accelerate the gathering of industrial, scientific, managerial talent. It is working diligently to build a high-tech and eco-friendly lakeside city with innovative resources, talents, modern industries, and integrated commerce, as well as a new economic high ground driven by service industry.
Introduction to SLiC
Cofounded by the People's Government of Changshu, the Team represented by Dr. Jiuzhi Xue, and the Jiangsu Industrial Technology Research Institute (JITRI) in Changshu in April 2016, Institute for Smart Liquid Crystals(SLiC)is a member institute of JITRI and is further the first member institute conceived by JITRI. Although an R&D institute, it is legally registered as Smart Liquid Crystal Technologies Co Ltd., a for profit organization.
With both the Team and the state owned entities directly contributing cash to its operations, SLiC is primarily a privately owned (by the Team) entity that enjoys strong support from the government. It devotes its effort to the research and development of liquid crystal technologies, the transfer and commercialization of the developed technologies, and the incubation of relevant high-tech companies. More specifically, SLiC is an open platform that attracts talents worldwide to conduct industrial technology research on emerging technologies beyond flat-panel LCDs and to foster an industry around which that may ultimate lead to a new era of liquid crystal applications in the World.